Written by Ameena Payne
Ameena@hawk.iit.edu
Photographs courtesy of Kejia Liu and Audrey Simper
Have you ever had certain situations arise because of the series of decisions you made months, maybe even years, ago? Events that occur (or don't occur) and then later on down the road, you realize the big picture? It's like an "ah-ha!" moment, a "this-opportunity-was-waiting-on-me-for-the-ultimate-gain-of-others" moment. This is how the opportunity to lead TEDxIIT began. It was a web of events and connections that has changed my life forever and has allowed me to be part of something unstoppable at Illinois Institute of Technology.
I've always felt like I was part of something greater than myself, and therefore, everything I have involved myself in, I have wanted to be an extension and expression of the person that I am - connected, positive, creative, and adventurous. A few years back, I made the decision to transfer to Illinois Institute of Technology where I then was fortunate enough to meet Amy Lee Segami, an artist, engineer, and alumna of IIT. Amy presented her personal story to a small group of students and then helped us create "paintings on water," her signature artist expression. This moment is so memorable to me because I loved her story about creating and being an artist and each of us following our passion. I sent my mother my "painting on water" which she still has framed to this day. Fast forward two years, and I see a bulletin for a class called "Got Creativity: Tools and Strategies for the New Economy." I felt I had to take this MBA course. I felt like this would be the value I've wanted to get from my undergraduate courses. I was given permission to take it.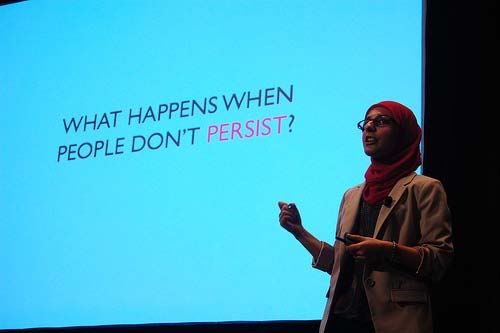 Amy reached out to Tom Tresser, the instructor for the "Got Creativity" MBA course, asking if any students were interested in bringing TEDx to IIT for a second year as a consequence of a turnover in the previous organizational team. There were about 6 weeks (including the university's spring break). We had no proposed budget, no speakers, no venue. Because I was both familiar with TED Talks and remembered Amy, I was enthusiastic to be involved. TEDx is so inspiring, and I wanted to share that feeling I get from watching a TED Talk with others. So, after several phone conferences, and having not much else but a purpose and understand of what we wanted to achieve, the planning and the gathering a great team began. This event was much bigger than me.
Amy, a TEDx speaker, TEDxIIT Founder, and IIT Alumna, and I began talking in February, and shortly after, I began talking to students and faculty I knew (and many times, those I didn't) to get to know who they were, to get a sense of their interest in TED, how they felt this could contribute to our university, and overall gauge support. Our very first meeting was attended by the university's Vice Provost, Associate Director of the Knapp Entrepreneurship Center, and about a dozen interested students. The energy was incredible, and the terms, Connector and Maven, used by Malcolm Gladwell in Tipping Point have been recurring thoughts. These people have been critical to the success of TEDxIIT and the continuity of the team.
After establishing the team, the expectations, and time commitment, we began. We met in person weekly, skyped, emailed, and were a transparent team. Because of the diversity of the team, our reach across campus and throughout the Chicago area was really incredible in the amount of time we had. We came up with a plan of speaker nomination and voting, hoping the speakers would be interested and available on such short notice. We were able to meet and gain support from the President of the University by creating a strategy and articulating why a TEDx event was unique to the campus; universities hold a lot of speaker events, and it was important for us to differentiate TEDx. We came up with a proposed amount needed to fund this free TEDx university event - which included printing materials, hiring audio/video, food for the all-day event, and other items. Our budget came to $15,165.45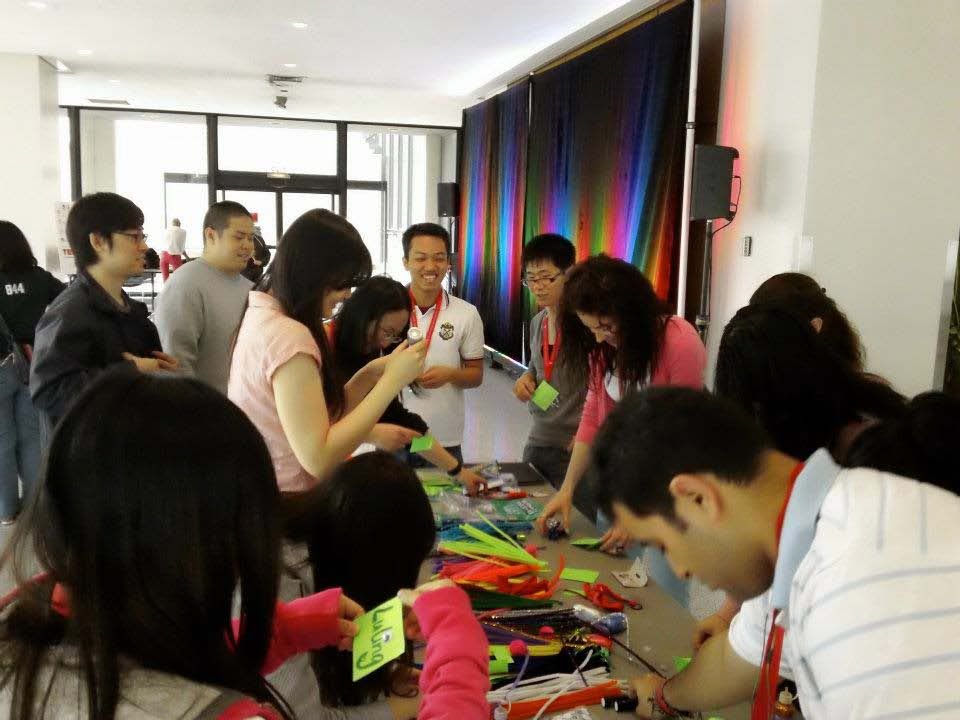 As we held our breath for our budget approval, we proceeded with continuing the planning of the event. We voted on and confirmed our speakers and secured smaller sponsorships. Much like many organizations, we had committees, an executive board, tasks, and deadlines. However, we also had school projects, homework and a life outside of it all. Our passion and creativity, despite our time constraints and uncertain budget, persisted, and we wanted to work to make this event happen - make it memorable. All ideas were valued. We initiated some interesting things that started off as an "off the wall" thought, and we utilized our resources in creative, successful ways; we created a drink in conjunction with the IIT cafe, Global Grounds, called TEDxIITea which was a peach chai tea latte; with each drink sold, $1 would go to TEDxIIT. The drink was very well received. We also collaborated with our student radio station, WIIT, to talk about the event among executing other publicity ideas. Neither of which had been done by an IIT student organization in the past.
I must share that communication and transparency were key in the team's cohesiveness. All of us had plenty of other responsibilities, and we had to cover each other's backs, being open and honest about whether or not we could complete a given task on time. We communicated, and at times, we needed to delegate the tasks to others. I feel that hierarchy served their purpose for being a student organization, but each member was valued and a hierarchy was not how I wanted to lead. While we each had a role, none was more or less important than the other. If and when one member dropped the ball, it affected all of us. Yet, when that happened, it was important to know not to feel embarrassed or angry or any other negative emotion. Things fail, and people make mistakes. The key is to make adjustments, and to communicate issues to the members of the team - to be transparent.

At last, our finance decision was made - we were allocated $15,165.45 by the university - everything that we proposed for! This was an absolutely incredible feeling, as may be imagined. What this meant is that the university saw value in what we were doing and how TEDx's vision of many voices, one conversation was in direct alignment with Illinois Institute of Technology's strategic plan of many voices, one vision. We had the go ahead to create the type of TED experience that we wanted to share with the IIT community.
Saturday, April 14 was a rare occasion when the IIT community truly came together for a single event. The TEDxIIT 2012 speakers were: Daniya Kamran, a student who runs the Chicago Innovation Chase and director at Eurekatory with projects worldwide; Muhammed Fazeel, student-at-large who is a recipient of Illinois Governor Pat Quinn's "Fifty for the Future" Award; Debbie Vyskocil, Joseph Clair and Marc Hans, a Golden Apple Fellow, are IIT alumni; Tanya Cabera, staff; Tom Tresser, faculty; James Stone, a Harvard graduate and businessman, who is director of IIT Stuart Knapp Entrepreneurship Center; along with Nityananda Pran Das, a spiritual leader, and Onye Ozuzu, the chair of the Department of Dance at Columbia College. Leo Xiangyu Liu, a graduate student from China provided live entertainment.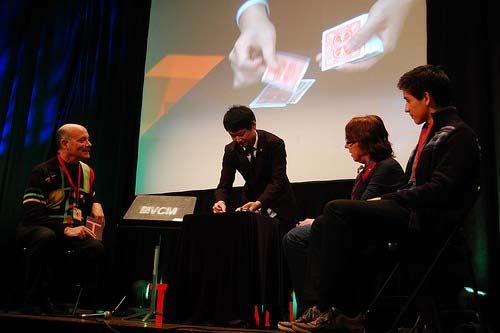 As the speakers flawlessly weaved great stories taking examples from their professional as well as personal lives, the audience was completely engaged. The talks felt like conversations rather than speeches. Topics covered were: entrepreneurship, creativity, dance as a form of technology, as well as immigration laws and biofeedback mechanisms, among many others.

After Tom Tresser spoke about the idea of a Gift Economy, 75% of the audience stepped up and participated by offering gifts to fellow attendees – from teaching Chinese to a bread machine. The day was buzzing with excitement. Many people commented on James Stone's non-nonsense, straight forward ideas on ending the age of entitlement and Marc Hans' energetic and dynamic closing.
The diverse backgrounds of attendees were an excellent mix of professors, students from different majors, as well as alum – handpicked to represent the best of the IIT community. Other attendees included students from various universities (ranging from Loyola to Southern Illinois University in Carbondale), and residents of the greater Chicago area connected to IIT in various ways. Despite their diversity, they all had one thing in common – a love for inspiration and new ideas.

Many of the attendees and speakers expressed how much they had enjoyed themselves and how much they were already looking forward to TEDxIIT 2013! It was a very rewarding experience for all whom attended.
The days leading up to the event and the day of were full of anticipation and excitement. Immediately following the event, I went straight to the airport where I caught my flight to attend the first TEDxSummit in Doha!
An event of this magnitude was accomplished with a team of talented and dedicated students including, but not limited to, the student committee chairs: Phillip Cano, Samantha Gallo, Taylor Harvey, Harshita Iyer, Ryan Le, Luling Li, and Eduardo Ojeda. Some of which will be graduating.
Watch a 5 min behind the scene video below, and view photos from the event here. More videos by the speaker will be posted at www.tedxiit.com in the coming weeks!